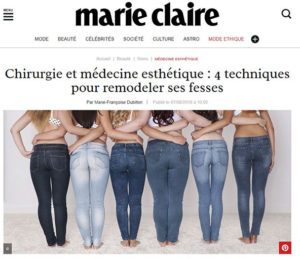 In France, this increasingly publicized intervention is becoming one of the most common requests forcing French surgeons to be trained in these new surgical techniques.
MARIE CLAIRE: Surgery and aesthetic medicine: 4 techniques to reshape your buttocks
---
HYALCORP BUTTOCKS INJECTION: HYALURONIC ACID FOR THE BODY
Hyaluronic acid makes it possible to increase the buttocks quickly without general anesthesia and this for a period of 12 to 18 months.
There is a new HA for this treatment: Hyalcorp.
DURATION OF INTERVENTION: 1 hour
REPETITION / DURABILITY: 12 to 18 months
LOCAL ANESTHESIA
RETURN TO DAILY LIFE: 24 to 48 hours
FINAL RESULT: 8-12 days
---
LIPOASPIRATION AND BUTTOCKS LIPOFILLING (FAT TRANSFER INCREASE)
Liposuction, also known as liposuction or liposculpture is a technique by which we suck up superfluous clumps of fat found anywhere on the body. It is the most widely performed and requested procedure in cosmetic surgery in the world.
Thanks to this technique, localized fat cells are aspirated. These fatty deposits are resistant to various weight loss diets. Sometimes the elimination of small amounts of fat is enough to harmonize the shapes of a body and make it more graceful.
SEE A VIDEO ABOUT FAT TRANSFER TO BUTTOCKS
More information about this treatment on the individual page.
Frequently asked Questions :
Why does this technique take longer?
What are the post-operative consequences?
What is the cost of buttock augmentation per fat?
DURATION OF INTERVENTION: 1h to 1h30
REPETITION / DURABILITY: Possible touch-up at 5-7 months
FINAL RESULT: At 6 months
BUTTOCKS PROSTHESES: BUTTOCKS IMPLANTS
Buttock implants are flexible but firmer and more cohesive than breast implants, they are also more resistant than breast prostheses.
They are made of a silicone elastomer and very cohesive silicone gel so they should not leak. In cosmetic surgery, you have to discuss the desired size with your surgeon. The latter will be able to advise you on an implant volume adapted to your morphology.
The average volume of buttocks prostheses is 250 to 350 g.
DURATION OF INTERVENTION: 2 hours, under general anesthesia
REHEARSAL / DURABILITY: 8 to 12 years
FINAL RESULT: 1 month
The incision is made in the inter-gluteal fold covered by the panties and even a thong. The implant is inserted into the gluteus maximus muscle with a vertical scar in the crease of the buttocks. A space is made, exactly adapted to the implant, so that it cannot move but which makes the operation painful. The implant is placed only in the upper half of the buttocks.
Post-operative suites:
The patient should be relieved with powerful analgesics (morphine) for 48 hours because it is more painful than breast prostheses.
She can sit down after 24 hours (well seated against a backrest).
The first dressing is redone at 24 hours and after the first 48 hours, patients can walk.
The average hospital stay is 48 – 72 hours
Twenty days at least to have normal daily activities, the practice of sports requiring the gluteal muscles should be postponed to at least 2 months.