Skin Bio-revitalisation (PRX-T33)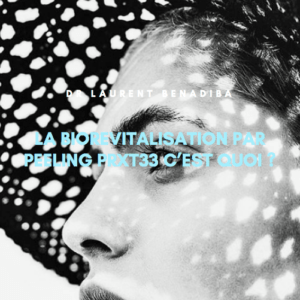 PRX T-33 is an organic revitalizing treatment without injection which aims to correct and improve the appearance of the skin by regenerating cellular tissues.

Principle of action:

The Plump-peel is a treatment that can be used, depending on the protocols, to restore radiance and tone to the skin, to reduce dilated pores, reduce fine lines, or even treat scars and stretch marks.
The PRX-T33 peel is an innovation in aesthetic medicine because the action of TCA is limited by hydrogen peroxide (hydrogen peroxide) which limits the consequences and the immediate reaction. It is the ideal treatment for those who are afraid of injections and there is no socialization.
The Plump-Peel or organic PRX-T33 revitalizing peel is indicated for:
Brighten the complexion
Reduce dilated pores
Plumping the skin like mesotherapy but without sting
Thoroughly cleanse the skin and allow better penetration of any aesthetic treatment of the face: botox, hyaluronic acid injection and mesotherapy
Fill in fine lines of the skin
Fill in acne or other scars
Improve stretch marks in addition to SLE
Prepare the scalp for local treatments such as PRP
Botox like action: by filling in the wrinkles of the forehead, the lion's feet or the crow's feet

Practically : 
The Plump-peel or PRX-T33 is applied to the skin without pricking but by massages either using a special eraser brush which allows to insist on certain areas or by making it penetrate more deeply by pricking with a micro-needle in the depressions (acne, accident or surgical scar) or in superficial wrinkles.
The session lasts 20 minutes, the skin will be washed with water before applying a very moisturizing cream which will be continued at home for the following days.
DURATION OF INTERVENTION: 20 minutes without anesthesia
REHEARSAL / DURABILITY: From 1 to 5 sessions depending on the case
FINAL RESULT: immediate and better and better as the sessions progress