Buttocks lipofilling / Fat transfer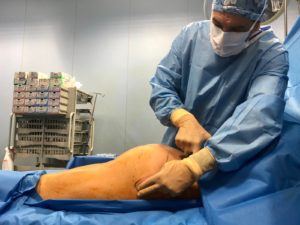 Thanks to this Liposuction technique, localized fat cells are aspirated and then re-injected into the buttocks. These fatty deposits are resistant to various weight loss diets. 
SEE THE VIDEO ABOUT BUTTOCKS LIPOFILLING / FAT TRANSFER
Liposuction does not eliminate cellulite. In some cases it can improve it. Cellulite is a normal phenomenon caused by fibrous partitions that stabilize the skin to the underlying tissues. Cellulite is not directly linked to the presence or absence of fat in a particular place but to a combination of factors that are still poorly understood: hereditary ground, hormonal factors, healthy lifestyle, skin quality, etc. proposed (mesotherapy, physiotherapy, phytotherapy, endermology, etc.) with variable results.
Only the new treatment with Cellfina makes it possible to treat localized cellulite in a lasting way.
Post-operative Follow up:
The patient should be relieved by simple analgesics for 7 to 10 days.
The first dressing is redone at 24 hours, then the patients can walk.
At least 5 to 8 days are necessary for you to be able to carry out normal daily activities. However, the practice of sports requiring the gluteal muscles should be postponed to 2 months.
---
Frequently asked Questions :
Does lipofilling ensure good long-term results?
Why does lipofilling take longer?
How long is hospitalization after lipofilling?
What are the post-operative consequences of buttocks lipofilling?
What are the risks of buttocks lipofilling?
What is the sensation to the touch?
---
DURATION OF INTERVENTION: 1.5 – 2 hours depending on the areas to be treated
REPETITION / DURABILITY: 1 time
FINAL RESULT: immediate and optimal at 45 days
ANESTHESIA: general or epidural
RETURN TO DAILY LIFE: 5 to 8 days on average