DID YOU KNOW THAT CORRECTING A MAN'S CHIN CAN GIVE MORE CHARACTER?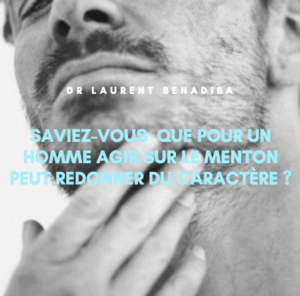 In a holistic way, I would like to talk to you about genioplasty, or the art of improving the shape of an unaesthetic chin by restoring the balance of the face from a front and side view.
This approach is part called profiloplasty, which consists of analyzing the face as a whole in order to best recreate the balance of different structures and facial harmony. The aim is to subtly modify the facial profile to bring softness to the face.
Over time, the chin may start to recede, in this case, a genioplasty may also be an option for this indication.
The different chin surgery techniques effectively correct aesthetic defects, such as a galoche or protruding chin that is too advanced and a receding chin which, on the contrary, is too far back.
Follow : INSTAGRAM
The chin is a very important region in the aesthetics of the face. It plays a role in the physical attraction of a face, particularly in men. The morphology of the chin is linked to the perception of beauty, but also of youth. The beautification of a face is therefore possible by correcting the chin.
Finally, with age, the bones of the face atrophy with chin retrusion and sagging cheeks. Facial rejuvenation therefore includes that of the chin. A true profiloplasty can be carried out by combining with a medical or surgical rhinoplasty.