Dumeg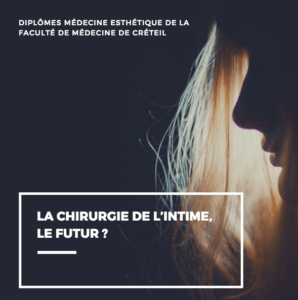 Dr BENADIBA, pioneer of intimate surgery was the co-founder of this innovative Diploma on medicine and intimate surgery.
This diploma is administered under the Faculty of Medicine of Créteil (UPEC).
Goal :
Discover and perfect the methods of genital restoration thanks to new techniques in intimate and aesthetic gynecological surgery.
About :
Intimate surgery and aesthetic gynecology are booming. In today's world, women have changed representations of their intimacy. The demand has existed for a long time, but few practitioners respond to it through ignorance of the issues, indications, techniques, limits and possible complications. Many women want to benefit from these new methods of genital rejuvenation.
These techniques of course affect young women in a desire to improve their sexuality and aesthetic genital beautification, but also all women suffering in postpartum, during a disabling menopause or in the aftermath of cancer or cancer. gynecological surgery.
Today, thanks to new therapeutic weapons such as Hyaluronic Acid, certain lasers, LEDs, simple surgical procedures, many effective solutions can be proposed.
Procedure, how it works :
Diploma over 6 days
Exam
Submission and defense of thesis
Registration: Only by email or via the DUTIC website
Program DUMEG :
Les bases anatomiques et physiologiques vulvo-vaginales et peniennes.

Les spécificités de la médecine esthétique appliquée à la restauration et au rajeunissement vulvo-vaginal.

Sécheresse et perte de trophicité vulvo-vaginale.

Les troubles urinaires associés.

Les troubles de la sexualité : dyspareunie, hypotonie vaginale, vaginisme…

Ménopause et sexualité.

Les méthodes de restauration et de réjuvénation génitale :

Rééducation périnéale

Chirurgie génitale et de l'intimité

Nymphoplastie de réduction, Chirurgie du Mont de Vénus, Capuchon clitoridien

Les méthodes mini-invasives :

Remodelage des grandes lèvres (Lipofilling et Acide Hyaluronique)

Correction de la trophicité vulvo-vaginale

L'amplification du Point G

Lasers de réjuvénation

Sexualité chez l'homme et la femme

Augmentation du penis

Transsexualisme
As the number of places is limited, pre-registrations are now open with Dr Laurent Benadiba and only by email (attach CV and a cover letter).

Courses :
Theoretical and practical with Live-surgery videos
Team of multidisciplinary French trainers: gynecologists, plastic surgeons, sexologists, dermatologists, urologists, physiotherapist…..
Pr Teboul, Pr Meningaud, Dr Benadiba, Dr Touré, Dr Hersant