Medical rhinoplasty corrects a nose without surgery.
Hyaluronic acid and sometimes Botox are used to camouflage a lump, project the tip or reduce the size of the nostrils.
The first cases of medical rhinoplasty for aesthetic purposes were described in the early 1980s and rather concerned post-surgical rhinoplasty irregularities. Today, medical rhinoplasty is a frequent request, it allows the non-surgical correction of cosmetic problems of the nose by the use of fillers (hyaluronic acid).
The main indication is the correction of the bump in the nose which will be camouflaged by adding filler above and below the bump simulating a straight nose.
The result is sometimes surprising and almost immediate, it lasts for several months but it is reversible. It is a good method when you are not yet ready to have surgery or to repair a rhinoplasty.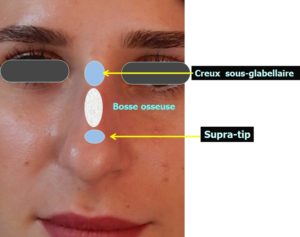 DURATION OF INTERVENTION: 20 minutes without anesthesia
REPETITION / DURABILITY: 5 to 12 months
FINAL RESULT: immediate